Designed with Esoteric CD transport for highend quality linear power supply.
While developing Nimitra Computer Audio Server, we also developed our own linear power supply aiming for affordable highend audio performance. The name "Nikola" is from the famous Nikola Tesla who invented affordable power distribution line that revolutionized the world until this day.
Thoroughly designed and tested for all products
We designed and built a few prototypes with many revisions through years with various devices including other servers, D/A devices, and even turntables. We tried many ideas and here's our reasons why we refused to implement these popular designs:
Balanced DC power supply
Most devices accept single phase DC input so it's not possible to make balanced DC output. We tried building balanced AC power conditioner with full wave transformer but it didn't work well as we hoped with increased noise from another phase. It should only be used with balanced DC power supply output only.
So, we decided to use bridge rectifier with isolation transformer and the result is very satisfying. Diode won't work twice harder as before, DC current is even cleaner with matching design for non-balanced DC power output.
Two-stage voltage regulation topology
When we tried to to make early prototyping PSUs having cleaner sound, we also tried two-stage voltage regulation topology (not cheap transformer coil). It produced cleaner sound with smooth presentation but dynamics wasn't as solid as before and worsened transient attack.
We also found side effects from two-stage voltage regulation with more heat dissipation from lost energy during each stage. We decided to build transformer with specific voltage output for the best results with purist design approach.
Choke-filtered linear power supply
We also tried choke-filtered design too since some of preamps I like use this design. With very clean sound and precise imaging using choke-filtered, there's also side effects of choke-filtered making the sound losing sweet touches and full body dynamics on lower frequencies so we shot this down.
Power capacitor bank
I could vaguely guess already as I saw from products trying this approach before but we decided to try this too. You won't get current shortage with this design but since we never has issue with current load, we decided to drop it like before.
The reason why we dropped this design is mainly about sonic performance. Focus became blurred and timing got a lot slower with strong sound signature from capacitor. No matter what capacitor brands and values we tried, it does harm more than good in our case.
We also considered other design implementations like shunt regulator design but it tends to be very hot easily so we didn't try it with over 3A cases. It's important to make sure the product will be safe and reliable for years to come.
Tested with highend CD/SACD transports
We tested Nikola and early prototypes in many highend systems as computer audio server's power supply. We compared with highend CD/SACD transports such as Esoteric/dCS/Emm Labs to make sure we didn't miss important information from reference sources.
Before launching Nikola, we have many Esoteric and dCS owners who are satisfied with our prototypes. During development, some customers who thought $300 power supply being too expensive ended up buying one of the very expensive prototype unit instead.
Awards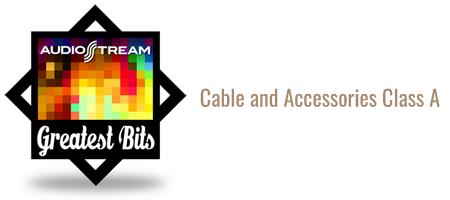 AudioStream's Greatest Bits Award, 2017 for Fidelizer Nikola
AudioStream's Greatest Bits is our version of Recommended Components. This list is culled from every piece of gear that we've reviewed each year and represents those components that stand apart in their ability to deliver a musically satisfying experience.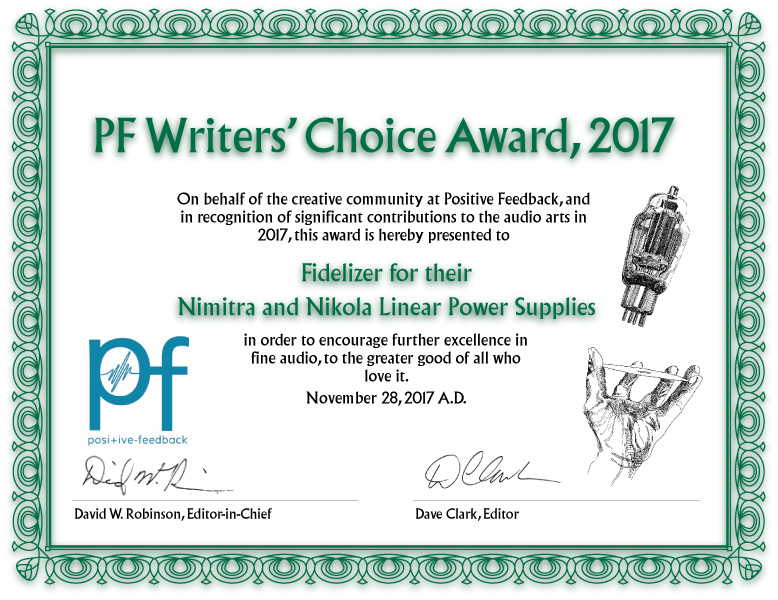 Positive Feedback Writers' Choice Award 2017 for Fidelizer Nikola Linear Power Supply
Although others did not hear a difference with the accessory Nikola linear power supply I and my wife found the Nikola to add a bit of emotional content, in particular I believe the lower midrange is a bit sweeter, perhaps more relaxed when playing HQPlayer transcoded files. My wife literally cried hearing Eva Cassidy singing Fields of Gold.
Tuned with highend audio standards
Before designing Nikola PSU, we built a few prototypes with best possible sound quality. We use the best parts for highend audio performance. In highend audio, the most important part is to make timbre and PRaT done right to make music both enjoyable and believable.
It also needs to be affordable too. So, we revised the design using the same principles as Nimitra to make affordable ones without losing its principles. As many audiophiles prefer power supply around $500 budget, we set the bar for Nikola products at $395/749 USD.
As a result, the finished hardware design has the following features:
Ultra low-noise toroidal transformer

– Very clean output from transformer with bridge rectifier and isolation

Regulator tuned with 4 ultra-fast diodes

– We chose the most optimal regulator optimized with best value capacitors and ultra-fast diode grade

Highend audio grade components

– Nikola products are built with highend quality so even entry level has best quality solder

Aluminum chassis with large heatsink

– Durable with highly efficient heat dissipation for stable regulation

High quality cable tuning

– Cable assembling and wiring are carefully chosen from leading industrial companies for optimal sound quality

Stable and reliable

– No hum, no significant heat dissipation with low energy lost from conversion with optimal transformer design

Optimized output voltage

– We build fixed output with the most optimal transformer configuration for almost no energy loss and heat dissipation
This is the best we can build for this price range and it's our policies to only build products worthy of being used in highend audio systems.
Nikola Classic / Nikola2
After launching Nimitra product, we started developing an improved linear power supply to match with Nimitra. After few months of adjustments, we brought a prototype to Munich Show and listen to visitor's feedback there.
After Nikola reaches its maturity in Signature version, I revised original design with over 2 years of experience with clients using Nikola to deliver better performance and synergy as Nikola Classic. It has even more affordable price at $395 and many local listeners prefers Classic over original Nikola.
Nikola Classic
Only euro 699


Nikola Classic has comprehensive design and testing after years with Nikola Signature. It's perfect pair with Nimitra and EtherStream for affordable price and compact size.

Nikola Classic's features:

-Same circuitry design as original Nikola
-Regulator tuned for high synergy musical performance
-Compact 1.5mm Aluminum chassis for small space
-Audiophile grade capacitors used in some flagship products
-16 AWG teflon insulated copper internal wiring

Nikola2
Only euro 1049

Nikola2 is the second generation of Signature series for highend linear power supply with uncompromised design and quality to bring full potentials of devices used in highend audio.

Nikola2's features:

-Regulator tuned for uncolored high fidelity audio performance
-Robust 2.5mm Aluminum chassis with better vibration control
-Highend grade capacitors providing richer sound
-Input capacitor is changed to dual capacitor circuit design
-Diode is upgraded with higher output current for high load device
-Furutech FI-03 Gold IEC inlet improving details and resolution
-14 AWG made in USA pure copper internal wiring
Nikola can also be built with 2 outputs on request. We also offer custom product solutions to customer with special requirements so feel free to ask us about custom Nikola builds.
Specifications
Wattage: 45W (70W for Nikola Signature 12-19V)
AC input voltage: Switchable 115/230V (configured according to shipping location)
AC input type: 2-pole+earth, rated 15A/250V with ceramic fuse
DC output terminal: 2-pole AC-DC power connector
DC output power limit: 3.7-5A@12V / 4A@5V / 2.8A@7V / 2.2A@9V / 3-4.6A@15V / 2.36-3.68A@19V
Bundles: 2.0m US Power Cable / 1.8m DC power cable
Dimension: 152 x 130 x 44 mm for Classic / 150 x 241 x 60 mm for Signature
Weight: 2.5kg
What customers say about Nikola
To show how our customers satisfied with Nikola linear power supply product, we'd like to share customers' experience with Nikola. Feel free to read testimonials before before giving Nikola a free trial with 30-day money back guarantee.
Hello Keetakawee,
I've now had the opportunity to listen to the Nimitra for several days and must say I'm very, very impressed. I tried it first as a direct replacement for my Mac Mini using it as a Roon Core with a Sonore microRendu as my endpoi… Read more
My tech fixed the power supply by putting it inside your 12V chassis.
And he said you did a good job on it. Normally he is not so complimentary to other people's work but he said yours is a good job.
Thank you so much. The display is now working fine and the music has never sounded better. Great support.
Many, many thanks!
I am listening to the Kazoo JPLAYSTREAMING on HUGO through HIFIMANN 1000v2 headphones and the sound is truly magical!
I am sure I will still need some handholding later on but for now everything is quite wonderful.
You are obviousl… Read more
Hi Keetakawee,
Thank you for the fast shipping and I have received both Nikolas. I am still allowing them to settle in but the quality of your work and first impression is outstanding. You are doing some great quality work.
Shovik
Thank you! The Nimitra is improving as it breaks in. It sounds amazing! I love it.
Hi Keetakawee. Hope you are well. The power supplies arrived safely yesterday and are in the system powering my server and cable modem. Digital streaming has improved again with additional noise being removed. Thanks
Ralph Sorrentino
Hi guys.
I wanted to jump in here as a customer of Nimitra.
Firstly I have to say the product is top shelf. I have never heard my system sound so good and am thoroughly enjoying the benefits of this device. In fact I have sold a Sony HAPZ1ES player t… Read more
Just got the PSU…In system for one hour. Fantastic, huge improvement, much more air and cleaner mid and bass !
My friend in Geneva, Jean-Jacques Bieri is also enthusiastic.
Thank you !
Andre
P.S. Looking seriously at your Nimitra.
Installed today and found big improvements in sound quality. It's significant upgrade despite having HDPlex which is also linear power supply too.
I am enjoying the Nikola. Definitely sounding better as time goes by. It brings definiteness to the sound. I notice a bit more space and distance between everything. I perceive more darkness on the low end and extension. High end is smoother and more… Read more
I received the Nimitra today. Thank you very much! I extracted a test CD. Although the Nimitra needs some burning-in, the result is already impressive. I have never heard such clarity and delicateness in the extracted music (I am almost listening to … Read more
arrived before noon today…a day early! no problems with immediately enhanced audio in all the subtle ways one hopes…wider soundstage…quieter and crisper at top and bottom with solo instruments sitting in their own spaces! streaming improved in simila… Read more
Hi Keetakawee,
I just want to thank you in regard to the Nickola 2 LPS and its pairing with the Pro-Ject CD Box RS2 transport. Simply put, an outstanding combo.
Improvement is noted across all sonic parameters. Most notably, tone/timbre/3 -dimensiona… Read more
Hello Keetakawee,
The problem is solved. After all, I needed a 5.5/2.5mm plug. My wife noticed an improvement although she did not know that I ha med any changes.
Thank you again and best wishes,
Markus Wolfensberger
Hi Keetakawee,
I don't want to postpone anymore to tell that your Nikola signature provides phenomenal improvement for my audio system. What was perfect before it was connected into the system became much more better. Nikola Signature has stolen a lo… Read more
Hello Keetakawee,
Thank you for all the help! The German keyboard is working, and also AnyDesk. After my first few days of listening to familiar recordings I can safely say that the Nimitra sounds truly wonderful. The difference to my previous PC wit… Read more
Hi. I have been playing around with the NimitraS so far when I got time. It sounds really great! I am currently just using it with the dragonfly red and HD600 headphones until I get the kii three setup.
Keetakawe,
The PSU is operating perfectly. I have the Nimitra setup using Roon server with the microRendu connected to my PS Audio DAC. I've already noticed more delicate sound with deeper and quieter background. Low end if firmer and more pronounc… Read more
I take this opportunity to congratulate you, after several months of listening pleasure, for the very high sonic quality I achieve with my server. This is really excellent, on par with, or even better than servers on the market regarded as the best o… Read more
Keetakawee,
That is a great job just what I was asking for top support. Oh and by the way this streamer puts my Auralic Aries streamer to shame great sound.
Hoi Keetakawee,
I thought I will give you an update of my adventures with Nimira and Nikola. It runs very stable. Some times after a driver switch a DAC clock locking problem occurs but that is fixed by a restart or some more switching.
Roon runs ver… Read more
Hi – Another satisfied customer